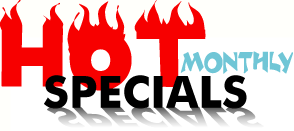 1 special available for March:
Welcome to Spring
Superworms
Zophobus Morio, commonly known as Superworms, are the hard-bodied larvae of the darling beetle. Easy to pupate and very inexpensive to buy and keep, superworms make a great simple study for students. Larvae do not spin but simply shed their hard casing, only to pupate, sit and wait for beetle development. Superworms are truly fascinating to watch. Superworms also make great crunchy treats for most animals. Consider adding Superworms to your pets diet.


Superworms 10% OFF with ANY $150.00 Bug Order.
For this special to apply you must meet the minimum retail order requirement of $150.00 order size as described in the special above excluding any additional shipping and handling costs.