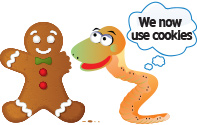 CONTACT US
RECORP was established in 1984 and incorporated by 1995 to provide individuals, pet store owners and wholesalers, particularly those selling all types of exotics pets such as lizards, arachnids, birds, snakes, fish and amphibians with a varied and reliable source of live (worms) and frozen pet food.
We are a leading supplier to individuals, retail establishments and wholesalers worldwide.
Today, we pride ourselves at being a ONE-STOP SHOP offering numerous varieties of exotic and standard live larvae and frozen products.
More importantly, we are an expanding business, shipping to more places and shipping larger quantities of insects than ever before. RECORP Inc. - we are the supplier of choice for all your pet and fishing bait requirements.
If you're into "live"… we can live with that!
SNAIL MAIL
RECORP Inc.
162 Guelph Street, Suite 275
Georgetown, Ontario
L7G 5X7 Canada

E-MAIL US
To learn more about our operation or to place an order, please direct your inquiries using the following on-line submission form: